We help you promote your music
Sonolize is the online platform for composers and musicians to digitally offer and buy sheet music. A new generation platform, independent and with a high-quality offer. Sonolize is all about music, for composers and musicians.
As a composer you can read everything here about Sonolize, how it works and how you can join and upload music. Log in as a composer, find answers to your questions and share your sheet music with musicians around the world.
log in - composer
We believe that composers deserve an honest fee. Therefore, as composer you will receive 65% of the price. And of course, you will remain owner of your copyrights. Login as a Composer.
Our story
Our dream is one place for composers and musicians to meet, with a fair price for the composer, where you can easily download the music with a mouse click. Read more about Sonolize and how it works.
How it works
It's very easy to create your own profile and upload sheet music to sell. We briefly explain here how that works. In our Composer Help Center we also help you with answers to your questions.
Our Story
Our dream is to create a place where composers and musicians come together, with a fair price for the composer, where you can easily download sheetmusic with a mouse click. Why?
At Sonolize you even get 65% of the selling price.
You determine the price of your music yourself.
When your work is played, all royalties go 100% to you.
All copyrights remain yours, where they belong.
You will be found here, in an increasingly fragmented landscape.
Your work is globally visible, on a professional website
Your own personal profile page, where you can sell your music.
Detailed information, previews and audio links with every composition.
Change or remove your music? You can do that yourself.
We think it's great if you want to sell your music elsewhere.
You have your own dashboard with clear insight into your sales data.
Payment within 30 days.
You contribute to a better and fairer music climate.
Easy to use and of course it's free.
Sonolize is digital, independent, transparent and fair.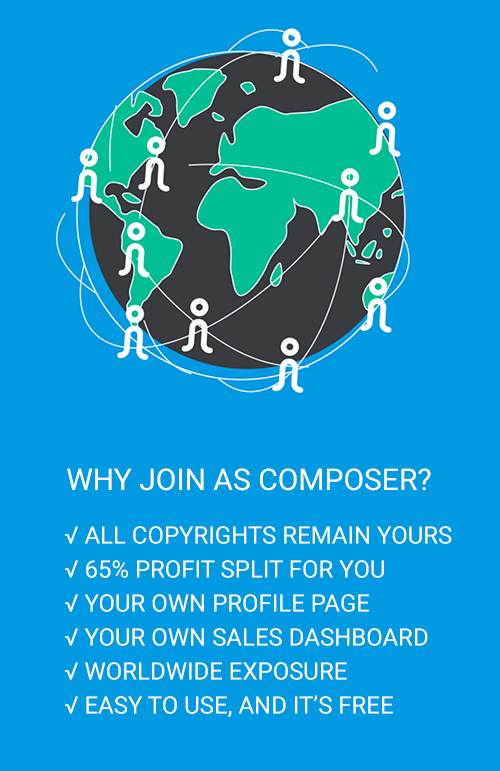 Get started with Sonolize
Do you want to join us and sell your sheet music through Sonolize? Welcome! If you are new to Sonolize, take the time to get to know us. View our terms and conditions to be sure that Sonolize suits you.
Create an account
Ready to create an account? You can read how that works in our Composers Help Center. You use this account for your personal profile page and to sell your music through Sonolize. You can overview and manage your data on your personal dashboard.
Upload Sheet Music
Uploading is a simple step-by-step process. You start by filling in information about your work. In addition to "instrumentation" and "genre", you can also add special search terms that tell something about your piece of music, such as instruments that do not appear under our "instrumentation" heading, a specific theme, or other features that are characteristic of your work.
Then upload your music piece as a PDF and determine your own price. Sonolize automatically generates a cover page with the title and your name and a follow-up page with instrumentation and the program notes that you have specified.
Optionally you can upload a midifile or mp4 and add a link to "Soundcloud" or "YouTube" where your music is performed. But, do take copyright and intellectual property into account here.
Save your sheet music now. Congratulations, your music is online!
Your first sale
The sales process runs entirely without any worry for you. When your item is sold, the payment goes through Sonolize. You can see exactly what has been sold in your dashboard.
And as agreed, we will pay you 65% of the selling price. Once a month you will receive an invoice from us and we will transfer that to you, provided that the total amount exceeds € 25. Otherwise we save it until the next month that we are above that amount.
Engraving
If you want to have your music checked by a professional engraver before you put it online, we can help you with that. Read how it works in our Composer Help Center.
Blogs, News items and Social media
You can advertise on your own profile page for performances, new music, but also add blogs.
And if you want to boost your sales or want to announce performances, it might be an idea to use social media. You can use your own social media channels for this, such as Facebook, Twitter or Instagram, but you can also use the Sonolize pages.
Read more in our Composer Help Center
News
Masterclass Composition and Conducting
The School of the Arts in Bern (Switzerland) offers a masterclass Composition and Conducting, specifically for Brass bands.
COVID-19 responses from the music sector
From the Music sector, various actions are taken per country to support music authors and the music sector in general during these difficult times.
Sonolize is growing
We have great ambitions and want to become the place in Europe where composers can offer and sell their sheet music digitally.
Join Sonolize and start up- and downloading music today. From composers to players, digital, independent, fair and with a high quality offer.